Join the Team!
We develop top performing apps for Mobile, Web,
Wearable & Connected Devices.
Check out our blog:
5 Innovative Products that Overcame Their Challenges - Using Your Advantages as a Startup (or an Established Business)
Ready to Help
Change the Way
Business are Run?
We are a full service agency that provides a combination of artistry, ingenuity, intuition and strategy to produce great solutions that are outstanding and user-engaging.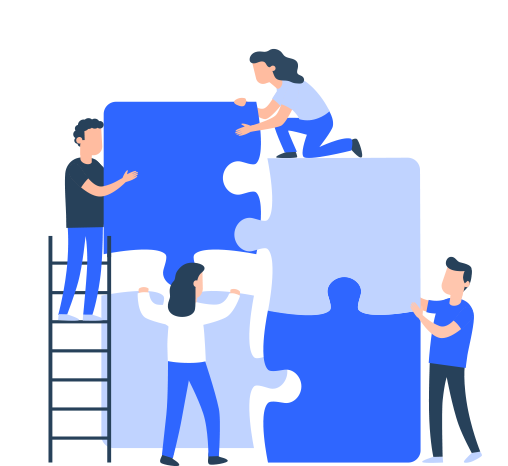 Teams & Open Positions
Wear My Vest is bringing a sharper edge to the lifestyle of the Night Life, Entrepreneurs, Businesses and MC Communities across all nations; worldwide. All members will experience fast, accurate.
Technical Content Writer
Objectives of this Role
Develop comprehensive documentation that meets organizational standards
Obtain a deep understanding of products and services to translate complex product information into simple, polished, and engaging content
Write user-friendly content that meets the needs of the target audience, turning insights language that sets our users up for success
Develop and maintain detailed databases of appropriate reference materials, including research, usability tests, and design specifications
Evaluate current content and develop innovative approaches for improvement.
Responsibilities
Research, outline, write, and edit new and existing content, working closely with various departments to understand project requirements
Independently gather information from subject matter experts to develop, organize, and write procedure manuals, technical specifications, and process documentation
Work with development and support leads to identify all documentation repositories, revise and edit, and determine the best solution for data compilation and centralized storage
Research, create, and maintain information architecture templates that uphold organizational and legal standards, and allow for easy data migration
Develop content in alternative media forms for maximum usability, with a consistent and cohesive voice across all documentation.
Requirements
1-2 years of experience in a software house
Degree preferred BS (CS), or equivalent
React Native Developer
Duties and Responsibilities
Work as part of a small team to build React Native iOS / Android applications for Full Stack's clients.
Architect, build and maintain excellent React Native applications with clean code.
Implement pixel perfect UI's that match designs.
Implement clean, modern, smooth animations and transitions that provide an excellent user experience.
Integrate third-party API's.
Write unit and integration tests.
Release applications to IOS and Google Play stores.
Work with native modules when required.
Work as part of a small team, which will include other React Native developers, a project manager, QA professional, and a designer.
Complete two week sprints and participate in sprint retrospectives and daily standups.
Assist with building estimates.
Interface with clients via Slack, Zoom, and email.
Track your time throughout the day using Toggle.
Work with modern tools including Jira, Slack, GitHub, Google Docs, etc.
Be part of a community of React Native developers who share knowledge and help each other as problems arise.
Follow FullStack's detailed development process
Requirements
2+ years of professional experience working with React Native.
4+ years of professional software development experience.
Experience working with Swift, Objective C, and Java a plus but not required.
Meaningful experience working on large, complex systems.
Ability to take extreme ownership over your work. Every day is a challenge to ensure you are performing to the expectations you and your team have agreed upon, both in regards to estimates and to general process.
Ability to identify with the goals of Full Stack clients, and dedicate yourself to delivering on the commitments you and your team make to them.
An understanding of React Native best practices and a commitment to following them.
Ability to work through new and difficult React Native issues and contribute to libraries as needed.
Ability to create and maintain continuous integration and delivery of React Native applications.
A positive mindset and can-do attitude.
Forensic attention to detail.
English Skills (ability to effectively communicate via written and spoken English).
Business Analyst
Job Description
Business Analyst is an expert in both Business Administration and Information Technology. Their primary responsibilities include liaising between IT/Development and the executive branch, improving the quality of IT services and analyzing business needs.
Business Analyst works on technology systems, expanding beyond the "IT" component and into the "Business" component, creating a great things for the career prospects of analysts in this space.
Business Analyst Responsibilities:
To breakdown the business model into easy terms for the understanding of the development team.
Liaising between the development department and the Executive branch.
Acting as an information source and communicator between business clients and development team.
Understanding strategic business needs and plans for growth.
Enhancing the quality of projects and services.
Analyzing the design of technical systems and business models.
Utilizing IT data for business insights.
Analyzing business needs.
Sourcing and implementing new business technology.
Finding technological solutions to business requirements.
Producing reports on application development and implementation.
To do basic software project documentation.
To develop technical proposals.
Analyzing data to inform business decisions.
Understanding the needs of multiple stakeholders.
Facilitating the negotiation of requirements among multiple stakeholders.
Identifying the current- and future-state business processes.
Helping the business stakeholders envision the future and how their work will need to change to support the future.
Creating, analyzing, and validating detailed functional specifications.
Facilitating design sessions with the implementation team to define the solution.
Delivering elements of systems design, including data migration rules, business rules, wireframes, or other detailed deliverables.
Business Analyst Requirements:
Degree in Computer Engineering, Business Administration or related field.
3+ years in an IT management position.
3+ years in a technology-driven role.
High ability to listen to problems and convert them into solutions.
Excellent problem-solving skills.
Analytical mindset.
Exceptional interpersonal, written and verbal communication skills.
Attention to detail.
Research Analyst
Job Description
Highly interested and proficient in a technical field, especially software and web app development. An invaluable techie who will bring in new and innovative solutions to existing and predicted problems. A smart and agile coder. An integral part of a modern R&D team. Their primary focus is designing and creating an innovative new product or process. Design and develop custom/project specific software's that will allow for more efficient data gathering. They also may design a new statistical algorithm that will better analyze the collected data because it is much more adept at respecting the constraints of the system being developed.
Research Analyst Responsibilities:
To write basic software development document.
Coding and algorithms.
To provide smart and fast product, project and service solutions.
Must be able to perform quality assurance.
Provide a scientific and technical software development support and service, available to all members of the development team throughout the company.
Manage, maintain and support the infrastructure and an effective software development environment needed to deliver the research software engineering services.
Maintain a portfolio and archive of collaborative software projects, code documentation, release notes and manuals.
Contribute to the user support and maintenance to ensure longevity and sustainability (e.g. version control, continuous integration, generation of and maintaining documentation) of these software projects.
Assist with developing an active user community, by contributing to seminars and networking events, encouraging best practices are adopted, sharing knowledge and expertise, and by providing technical support, problem-solving, training opportunities and coaching sessions.
Develop implementation plans for dealing with complex requests for change, evaluate risks to integrity of infrastructure and research computing environment, and review the effectiveness of change implementation.
Take responsibility for the definition, documentation and satisfactory completion of collaborative software projects defining requirements, timescales priorities, and milestones and managing risks to the success of the project. Ability to priorities tasks across multiple projects towards meeting objectives within agreed time and resource constraints and provide regular communication through reports to project leads as appropriate.
Design, construct, test and document well-structured and maintainable software solutions to meet the requirements of collaborative software projects.
Support the development team with porting codes and understanding the performance characteristics of code, advice on optimizing and efficient use of third-party software, debugging and solving problems.
Identify opportunities for service improvement, such as efficiency, reliability and performance of parallel codes and third-party applications, and propose and develop innovative solutions to enrich the user experience and to enhance service delivery.
Engage with researchers at all development stages and disseminate best practices in the development and sustainability of research software.
Develop and deliver hands-on technical training and provide coaching sessions on topics within research computing, e.g. scientific programming and software carpentry.
Maintain an awareness of technical developments, tools and ideas in research computing and in software engineering. Including attending seminars, technical briefings, conferences and technical groups.
Research Analyst Requirements:
Bachelor's degree in computer science, or engineering is required.
Fresh to 1 year of experience as a technology researcher.
Must be well-versed in the scientific method.
Must be a computer techy.
Expertise in python, UML and use case builder.
Have an in-depth understanding of various computer programing languages such as C, C++, C#, and Java.
Have a good understanding of Linux environments.
Excellent problem-solving skills.
Business Development Manager
Job Description:
The Business Development Manager is responsible for business development/sales, relationship development and management, strategic leadership and design. The focus of this job is on achieving results which are aligned with the larger picture of the organization and its strategic goals. Initiative, coupled with a sense of competitive drive, and the ability to stay focused on results despite changing conditions, is the key to achieving the performance objectives of this job. The emphasis on building rapport and relationships with individuals and groups requires an outgoing, poised and persuasive communication style.
Because the pace of the work is faster than average, the ability to learn quickly and thoroughly while continually recognizing and adapting to varying conditions is critical. In order to achieve Crewlogix's high business standards and organizational growth goals, success in this position requires an entrepreneurial commitment, along with a sense of urgency and confidence in your ability to handle a variety of challenges. This fosters a job environment that is flexible, autonomous, and facilitates growth opportunity through recognition and rewards for the achievement of revenue goals.
Primary Responsibilities Include But Are Not Limited To
Manage existing client relationships and all aspects of new business development.
Generating new business leads, and managing the sales cycle for that lead
Identify and develop new business through networking and follow-up calls
Develop and present proposals, solutions and pricing models to grow account
Experience selling business solutions to corporate clients
Sell solutions across multiple verticals
Manage large dollar revenue volume
Responsible for contract development and negotiation
Experience reaching and exceeding monthly, quarterly and annual sales targets/goals
Job Specification:
Relationship building and sales consulting expertise
Knowledge of IT services and solutions
High tolerance and evolved ability to lead and manage ambiguous situations
Superior verbal, written, facilitation and presentation skills
Bachelor's degree
Proficiency in English
Graphic Designer - JD
Skills Needed
Computer fluency in Mac and PC
Knowledge of design techniques, tools, and principles
Typography knowledge
Multimedia content development
Media production, communication, and dissemination techniques
Understanding browser capabilities
Creativity and originality
Fluency of ideas
Attention to detail
Adaptability, flexibility
Client facing communication
Teamwork
Organization, ability to juggle multiple projects
Self-directed
Graphic Designer Suggested Software Proficiency
Adobe Creative Suite: Photoshop
Adobe Creative Suite: Illustrator
Adobe Creative Suite: InDesign
Adobe Freehand
Adobe After Effects
Autodesk
AutoCAD Software
CAAD Software
Microsoft Publisher
Microsoft Visto
QuarkPress
Corel and CorelDraw Graphic Suite
Apple Final Cut Pro
Interested in working with us?
Crewlogix goal is to help Startups and leading brands build amazing Internet and Mobile applications. We see ourselves as a technological partner for our customers allowing them to be one step ahead, using complex backend programming and cutting edge technologies.